Lashawn Thompson death news has come as a shocker for everyone. After all, no one is quite ready to believe that an inmate in an American prison has died from thousands of insects bites.
Who Was Lashawn Thompson?
Lashawn Thompson was an inmate at the Fulton County Jail in Atlanta. He was arrested on a simple misdemeanor battery charge on June 12.
Lashawn had mental issues and suffered from schizophrenia so he was put in the psychiatric wing of the Fulton County Jail.
How Did Lashawn Thompson Die?
Lashawn Thompson was found unresponsive in his jail cell on September 13, 2022.
According to the family and relatives of Lashawn Thompson, he was eaten alive by bedbugs. He encountered a very tragic death.
How Old Was Lashawn Thompson When He Died?
Lashawn Thompson was just 35 years of age when he died. The reason of his death has been listed as "undetermined" by one of the medical examiner.
But on a closer look, Lashawn's body can be seen fully infested by insects. His eyes, mouth and nose were full of insects and his body seemed to be bitten by thousands of bugs.
His family members have rightly said that Lashawn wasn't put in the jail cell, but instead in a death chamber. His cell could be seen in the pictures and it appeared extremely filthy. One can only examine how disgusting it must have been to live in such a dirty place.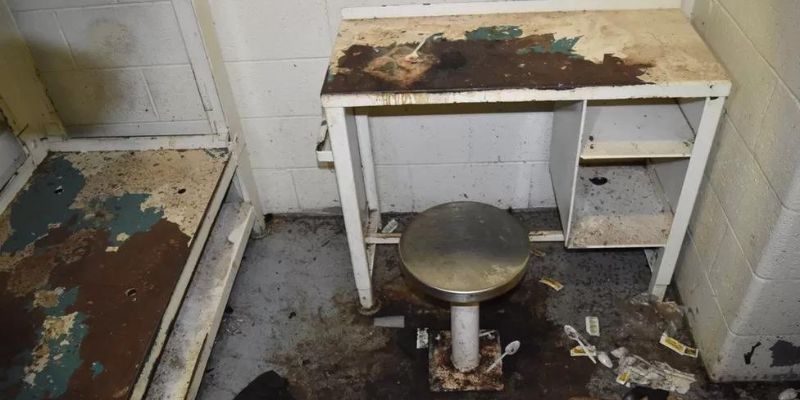 Lashawn's brother Brad McCrae remembered his brother and said the following.
"I want the world to remember him as I do, as a loving person, a playful person. He loved music. He loved to cook. I want the world to remember him as their cousin, their brother, their uncle, or whatever the case may be, because it could happen to their family, just like it happened to mine."
What Happened to Lashawn Thompson?
Lashawn Thompson suffered the worst living condition in a jail cell. First, it was fully infested by bedbugs, and on top of that he was schizophrenic. The jail authorities must have placed him on 24 hour surveillance but instead chose to not do so.
That lackluster approach on the part of jail authorities led to the demise of Lashawn Thompson. His family have demanded strict action against the jail authorities as well as an independent inquiry on the case.
The jail authorities knew that Lashawn Thompson's health was deteriorating day by day but they didn't help him. One of the jail authorities even refused to administer CPR when they found him unresponsive. Such was the callous approach that led to the tragic death of Lashawn Thompson.
They've also demanded for an independent autopsy examination and former NFL athlete Colin Kaepernick has agreed to pay for it.
Civil rights and personal injury lawyer Ben Crump is representing the Thompson family in this case. He has clearly said in a press conference that the legal team would demand for an independent post-mortem examination so that the actual reason of the death can be ascertained.
Crump showed the picture of the dirty and trash strewn jail cell where Mr. Thompson was kept during the press conference and said "What you're looking at, I think, is not just a deplorable jail cell, but this is a crime scene. This is criminal."
Has Anyone Been Punished After this Incident?
An internal investigation was conducted by the jail authorities and three of the Fulton County jail staff have resigned.
Patrick Labat, Fulton County Sheriff informed at the press conference that Mr. Thompson's death is being investigated by the Office of Professional Standards and Atlanta Police Department.
He said at the press conference "We understand that this is absolutely unconscionable, point blank."
Once their investigation is completed, they'll handle the case to the Georgia Bureau of Investigation.
Sweeping Changes To Be Made at the Jail
After the gruesome murder of Lashawn Thompson inside the jail cell, the County Sheriff has planned to bring sweeping changes to the jail.
The jail is expected to receive $5.4m for upgrades and they've already spent over half a million dollars on decontamination so that no other inmate has to face horrific situation like Lashawn Thompson.
Also, the psychiatric wing where Lashawn was kept will be cleaned twice every month.
Apart from that, there is a planning to bring wide systemic changes to the jail. Funds have been allocated to provide physical and mental health services for inmates as well as better overseeing and monitoring on the part of jail staff.