Indian Larry being a stunt performer was scheduled to perform at the Liquid Steel Classic and Custom Bike Series bike show on the afternoon of 28th August, 2004.
Also Read This: How Did Jerry Baker From 23 Blast Die?
His stunts included standing fully upright on the bike seat while speeding down the road and also riding through a tunnel of flames. Larry had expressed apprehension about performing the stunt.
 Who Was Indian Larry?
Indian Larry was born on 28th April, 1949 in Cornwall-on-Hudson, New York, United States of America.
What Happened To Indian Larry?
Mondo, a close friend of Stunt master Larry, revealed later that Larry had shared with him his sense of foreboding and said that he was participating out of pressure from the organizers.
As he was performing a stunt, his bike lost control and he fell off and hit his head on the tarmac. He succumbed to the injuries at 3:30 AM on Monday, August 30, 2004 at Carolinas Medical Centre in Charlotte, North Carolina.
Was There Foul Play In The Death of Indian Larry?
Many fans were heard asking if there was a likelihood of foul play in the death of Indian Larry. Larry was a gifted builder and many wondered how his bike Grease Monkey would have wobbled especially under an experienced stuntman.
Why Was He Called Indian Larry?
Indian Larry got his nickname from the brand of his motorcycle that he rode when he started out in acting. It was a chopped-off Indian Motorcycle. His real name was Lawrence DeSmedt.
What Was Indian Larry's Net Worth?
Indian Larry's net worth was $400,000 as of 2022 according to networthpost.org.
What Was Indian Larry's Educational Background?
Larry attended a Catholic elementary school where he suffered a lot of abuse from the nuns.
Was Indian Larry Ever In Prison?
After the death of his sister Diane, a grieving Larry found himself on the deep end of drug addiction which resulted in him robbing stores to keep up his drug habit, all the while avoiding the long arm of the law.
However, in a sting police operation in 1972, Larry was nabbed red-handed robbing a bank which landed him three years in Sing Sing Prison.
What Was Indian Larry Famous For?
Indian Larry was famous for being a stunt rider, an artist, a biker and most important of all, a motorcycle builder who's fame was widespread in the eighties.
His workshop was in Williamsburg, Brooklyn and all biking enthusiasts and bike custom builders looked up to him. His friend Mr. White told Larry's fans once that he regarded his work as a form of art.
What Tattoos Did Indian Larry Have?
Larry met his wife to be Andrea 'Bambi' Cambridge in 1996. Later he proposed to Bambi in the Bahamas by surprising her by having her name tattooed across his chest in circus letters.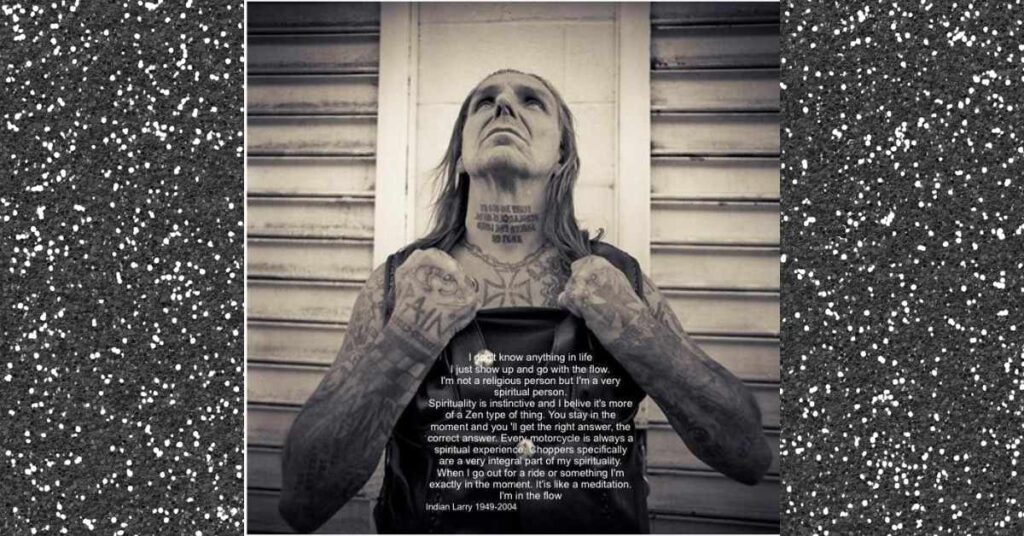 Who Was Indian Larry's Family?
Indian Larry's parents were Augustine and Dorothy DeSmedt. Larry's father was a very strict parent and worked as a carpenter at West Point Military Academy where they had put up their family residence. He had two younger sisters, Diane and Tina.
What Was Indian Larry's Personality?
Indian Larry was known to be a loner and a deep thinker since his sister Diane's death. He was also regarded as down to earth and approachable.
What Did The Question Mark on Indian Larry Stand For?
Indian Larry's philosophy in life was to question everything and hence ended up using the question mark logo on all his motor bike designs as his trademark.
What Happened to Indian Larry's Sister?
Diane was Larry's younger sister and his favourite. Diane had run away from home at sixteen to California to study the 1960's counter-culture. On 21 June, 1971, she was murdered. A devastated Larry undertook all arrangements for her remains to be transported to their hometown.